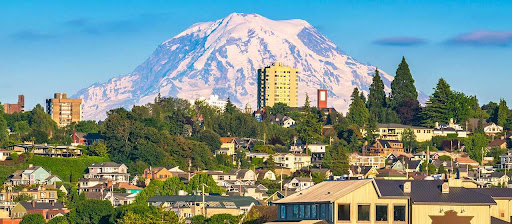 Situated between Tacoma and Seattle, Puyallup, Washington is in close proximity to large cities while also maintaining all the perks of suburban life. Known for its glacial rivers, beautiful parks, and stunning views of Mount Rainier, more and more families and young singles are flocking here each year. Keep reading for our guide to living in Puyallup.
In Puyallup, you can expect mild weather most of the year. The thermometer will hit about 78 degrees on a warm summer day; however, be prepared for light snowfall in the winter months. Puyallup doesn't get nearly as much rain as other regions in the Pacific Northwest. January is always the wettest month with up to 15 days of rainfall whereas August typically averages 3 days.
No matter the season, there's always something to keep you busy in Puyallup. Every summer, visitors from across the state make the trip to Puyallup for the Washington State Fair. Here you can enjoy hundreds of family-friendly rides and activities. In the summer, The Daffodil Festival is a must-see event that has been taking place since 1934. During the months of April through October, you can shop the finest Puyallup has to offer at the Puyallup Farmer's Market.
There's no shortage of amazing restaurants to try in Puyallup. Just a few of our favorites include
Crockett's Public House
for a juicy chicken sandwich and
Toscano's Italian Grill,
where you can dig into all of your favorite Italian dishes.
As mentioned earlier, a lot of people move to Puyallup due to the easy accessibility to outdoor adventures. A few you can find right here in our community are Bradley Lake Park, a 59-acre park complete with a lake where you can fish, and Pioneer Park where your little ones can play on the play structure for hours.
Whether it's because of the weather, the proximity to big cities, or even the easy access to outdoor adventures, there are a million reasons why moving to Puyallup is a good idea. Don't forget to stay up to date with all of Peak at Sunrise's most recent happenings by following us on
Facebook
or
Instagram.